50 % OFF SALE - PLUS FREE SHIPPING!
We are excited to share with you that, for the first time, we are introducing a beautiful, 2021 Hope for Korah Calendar!
Each month captures simple moments of everyday life in Korah. The photographs have an artistic quality to them and will make a lovely wall decoration. Also, the calendar could be given as a meaningful gift. This is, of course, a fundraiser to help and assist our so needy people in Korah. We hope that you will be able support this project and place your orders...
... and here is just a small preview of what our calendar looks like:
...we love it - hope you will too!"
~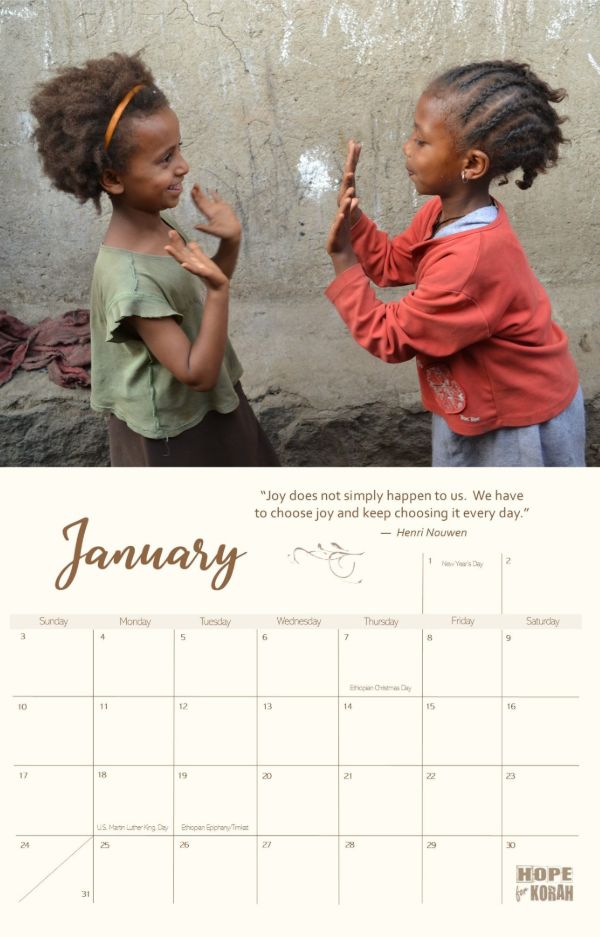 $17.50 $35.00 each - plus receive FREE Shipping!
Calendar Reviews
"This calendar reflects the resilient and beautiful people of Korah; It's a visual reminder that each of us has the privilege of praying, celebrating and remembering. Every day is a gift!" - Connie
"The pictures and accompanying quotes are well chosen. It gives a personal and more constant reminder of the reality of Korah." - Gloria
''Strolling through the Hope for Korah calendar this morning... feeling blessed and inspired. It speaks from the heart of God for the beautiful people pictured here... and it speaks to our world too; of abundance and loss, joys and sorrows.... It speaks of courage, the faith to choose joy and never give up. I intend to keep this calendar visible, each month musing on an amazingly wise quote as I pray for these precious children, teens, women and men.... I expect it to become one of the tools God uses to shape me in the coming year. I am so glad we invested in these calendars to give away this pre-Christmas season. Thank you, HFK staff, for sending them our way! " - Catherine
"I love the calendar! I think I want 2 more. Can you check if my friend (*name) ordered one, because if not - I want to get her one!" - Joyce
"Heartfelt thanks for the wonderful Calendar! It is so moving, beautiful and inspirational. Going through the pages and reading the messages brought tears of joy - Hope is evident on every page! Thank you for the thoughtful blessing!" - Vera
"I just picked up the mail... what a beautiful calendar! Thank you. The quality is so good and it is wrapped in plastic to keep firm." - Gloria