Hope for Korah's (HFK) Primary Health Services Centre exists to support health stability for impoverished individuals and families living within this community, enabling them to receive education, retain employment, and earn an income, thereby exiting the cycle of poverty. It provides a clean, consistent location for HFK beneficiaries and/or their family members to receive treatment and monitoring of their acute and chronic illnesses, and preventative health education.
The Primary Health Services Centre is located at our main HFK Compound in Korah. Our Ethiopian nursing staff work alongside a Public Health Officer (equivalent to a Physician Assistant or Nurse Practitioner) in the assessment, diagnosis, and treatment of illness and evaluation of care provided. All individuals presenting with severe illness are referred to various local higher levels of care for treatment.
Our healthcare staff are also involved in such primary health practices as semi-annual malnutrition screening / treatment and de- worming, immunization monitoring, health and hygiene teaching, and family planning education and consultation. They make home visits to support the integration of health / hygiene practices as well as to deliver illness care when beneficiaries are too ill to get to the centre.
Short-term mission and medical teams have put on several "Women's Health & Education Days" which have provided women throughout the Korah community with basic health and hygiene lessons. Additionally, once back home, these teams are key to raising awareness and funding for the ongoing health needs facing families in Korah.
Sawenet's Story
It is by God's grace that Sawanet is alive today. She was literally on death's doorstep. When I first saw her sitting quietly beside her mother on the edge of the dirt road in Korah, I had no idea how truly sick she was. With only the clothes on her back, Sawanet's mother had left her children and home in the countryside to bring her very sick daughter to the city. As with others who end up in Korah, she was desperate to find help.
Read more about Sawenet's story and view before and after photos on The People of Korah page.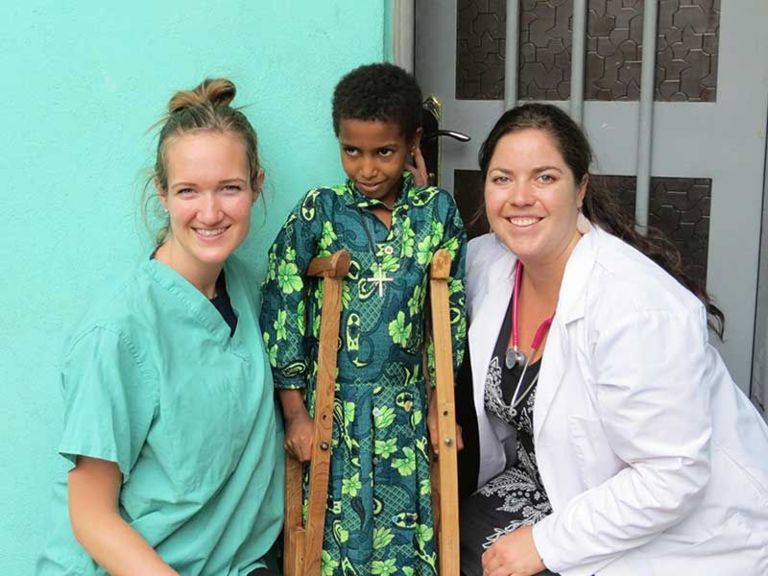 Stay Up-To-Date With Hope For Korah. Join our e-newsletter.