HFK's Youth Empowerment Centre facilitates sports activities to help students develop healthy hobbies ​and learn the benefits of teamwork and exercise.
Our Boys' and Girls' Soccer Programs are by far our most popular clubs with over 200 children participating. The kids absolutely LOVE having their own soccer teams, enabling them to participate in practices, drills and games once or twice per week. The Soccer Program seeks not only to promote health and teamwork, but also provides kids with an opportunity to grow in their faith as they participate in pre-game devotional time before each practice.
Additional sports activities offered through HFK are participation in the Great Ethiopian run, basketball, various youth relays and outdoor games, ping pong, and football. These activities provide healthy outlets for students and promote fun, health, teamwork, and problem solving.
Sports activities also help youth protect themselves from high risk or addictive behaviors which are prevalent among those in the community who lack these positive outlets.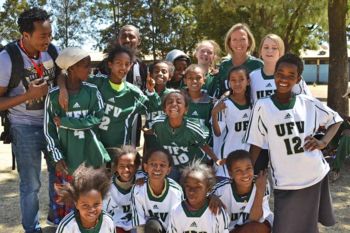 Stay Up-To-Date With Hope For Korah. Join our e-newsletter.